Welcome to Bethlehem NH!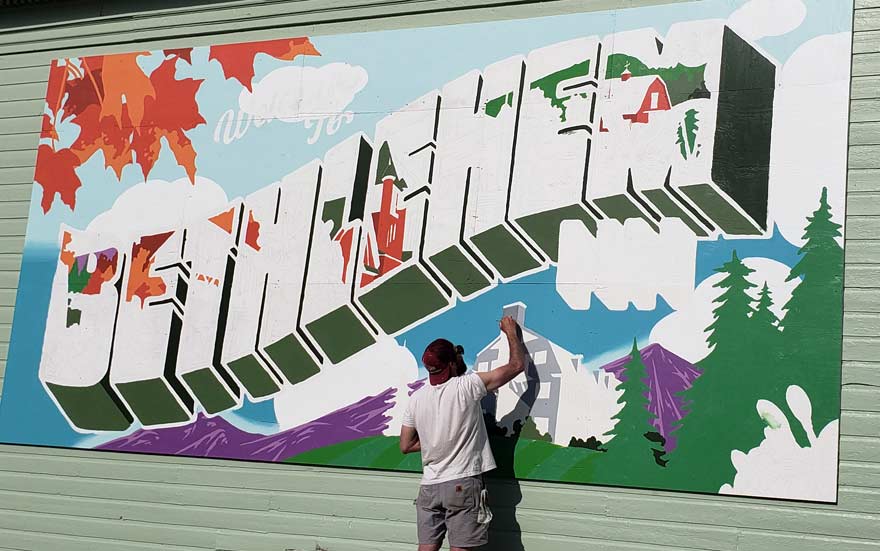 A colorful new mural is welcoming visitors to Bethlehem this summer!
The Welcome to Bethlehem mural depicts seasonal touches, like orange maple leaves and spring and summer flowers in pinks, purples and yellows, along with iconic White Mountains scenes - a covered bridge, a red barn, majestic mountains and flowing water - along with Bethlehem landmarks like the Colonial Theatre. The stately and historic Adair Country Inn & Restaurant, which funded the project, sits atop a rolling lawn surrounded by deep green pine trees and purple mountain peaks.
Adorning the exterior wall of the WREN Local Works Marketplace & Gallery building on Main Street, the mural is part of the North Country (NOCO) Mural Project and was painted by NOCO artist Zach Johnsen of Littleton.
The mural idea was conceived by Jessica Bahrakis, NOCO Mural Project founder, and Pam Sullivan, Executive Director of WREN, who reached out to Cathy and Joel Bedor, owners of the Adair, who enthusiastically agreed to sponsor the project.
"We love our town and wanted to welcome visitors from near and far with a bold and colorful message that lets them know we have so much to offer in Bethlehem," says Cathy Bedor. "Joel and I were pleased to sponsor this project and know it will bring a smile to the faces of everyone who sees it. And it makes a great photo op!"
"Northern New Hampshire's harsh winter weather had taken its toll on the previous mural on the WREN wall and we were delighted to work with Cathy and Joel, Jessica and Zach to create a new mural to replace it," says Sullivan. "It's bright and beautiful and says so much about our little mountain town and the welcoming atmosphere here."
Behind the Scenes: The Process
The North Country Mural Project (NOCO)
Jessica Bahrakis, founder of the North Country Mural Project (NOCO), has been an artist from an early age. As a young adult travelling across Europe she discovered street art, like murals and graffiti, wherever she went, in cities like London, Paris, Amsterdam, Denmark. "I was completely amazed that the rest of the world had this art everywhere."
During 2019 and 2020, as she travelled within the United States, she discovered wonderful street art here, too, in cities across the country, where artists used their skills to create works of art in public places that instilled beauty, uplifted spirits, or supported a cause.
Back home, she realized that street art had become her passion. "I came home, sat and thought, 'how can I bring this to the North Country in a North Country way?' as we don't have the skyscrapers, bridges, underpasses or boarded up storefronts that big cities do."
In 2020, she got to work imagining street art that could be created to "show gratitude and appreciation for our essential workers." She began to make connections with artists and business people in the area and the nonprofit NOCO project took off. Nine pieces of street art were initially produced ready to be installed around the region.
Last fall, Jessica contacted Pam Sullivan, Executive Director of WREN, and began brainstorming the Bethlehem mural that was unveiled on July 2. They took the idea to Cathy and Joel Bedor at the Adair, who agreed to sponsor the project. Several artists were asked to submit their vision for the mural and Zach Johnsen was chosen as the artist.
Now that the beautiful Welcome to Bethlehem mural has been turned from an idea into a reality, Jessica reflects that, "Greater well-being can be found when art touches our lives somehow, everyday."
Removing the Older Mural
NOCO's Jessica Bahrakis and a handful of volunteers removed the panels with the squares, detached each painted square and set them aside for the original painters to pick up if they wished.
"We hated to see the old mural go as it had added such a vibrant note to town in its early years before the weather began to take its toll causing fading and flaking," says Sullivan, "We did our very best to deconstruct it so that the original contributors could take home the piece they painted as a souvenir of the town's very first magnificent mural."
Painting the New Mural
With lots of input from the project collaborators, NOCO artist Zach Johnsen conceived the design of the new mural and once the old one had been removed went to work painting the new one. Part of that process included projecting the design onto the building as he painted so that his brushstrokes stayed accurate to his original concept.
Born and raised in Colebrook, and now a resident of Littleton, Zach says that he has seen "first hand how public town murals positively impact the community. I have always enjoyed the town of Bethlehem and when the opportunity arose to paint a mural on Main Street, I put my hat into the ring."
Noting his admiration for both the design and community effort that went into the old Bethlehem Mural, Zach says that when it came time to replace and update the mural site, he wanted to "harken back to that original mural and that informed my design for the new one, continuing with the play on the 'Greetings From' postcard art from around the country and applying that aesthetic to the new mural. I wanted the art to be a bold statement with bright colors that served as a landmark and greeting for the town for years to come."
The Unveiling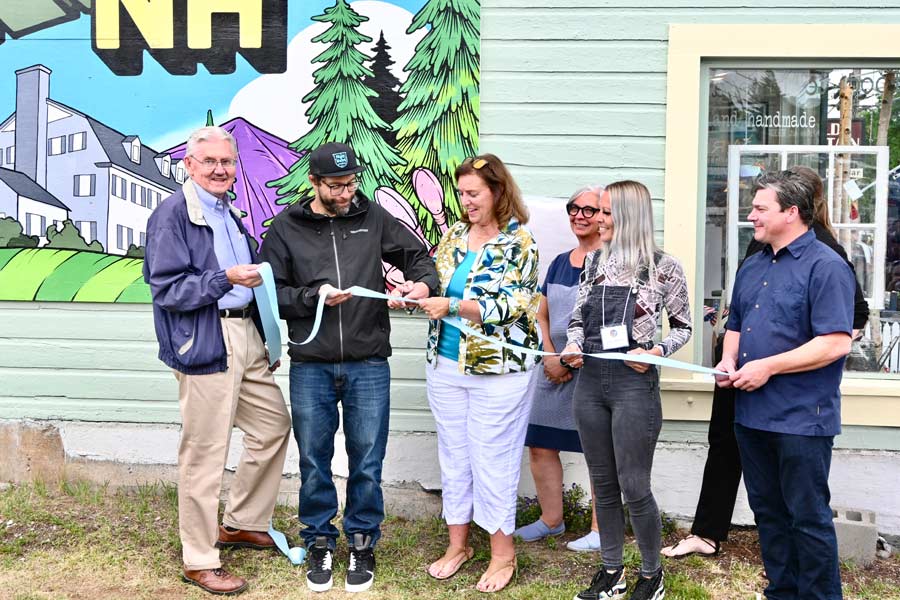 The new Welcome to Bethlehem mural was unveiled and dedicated during a Community Block Party on Friday, July 2. Artist Zach Johnsen and the Adair Inn's Cathy Bedor, second and third from left, did the honors and cut the ribbon. Also in the photo are the Adair Inn's Joel Bedor, far left, and NOCO founder Jessica Bahrakis, fourth from left, while community members looked on. Pam Sullivan of WREN, not pictured, emceed the event.