Spring Specials

Gin Spirit Tasting Weekend Features Spirit Connoisseur Nigel Manley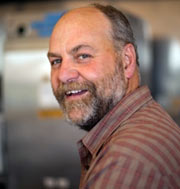 Join us on Friday, May 21, from 7 to 9 p.m., for a Gin Spirit Tasting hosted by spirit connoisseur Nigel Manley, who will regale you with gin facts and fables while you sample an array of gins and nosh on bite-sized eats.
Nigel Manley, our neighbor from The Rocks Estate just across the road, has made Bethlehem his home for more than 30 years and is well-known locally as a whiskey and spirit enthusiast who has a passion for sharing his knowledge. During his presentation guests will learn that gin was first made in Belgium, and its name comes from the Dutch "Genever" or the Latin "Jenever," for one of its ingredients, Juniper Juniperus.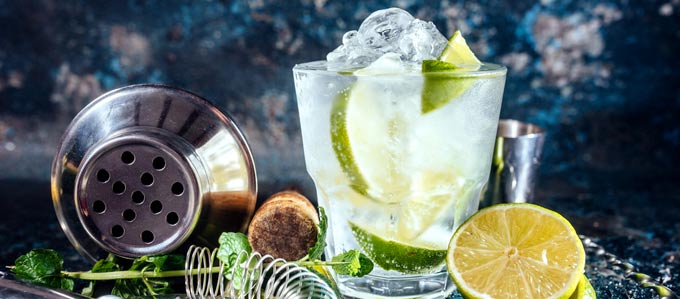 Guests will also enjoy a typical gin tasting, where the gin is served neat, without tonic, ice or garnishes. To fully experience the spirit, gin is swirled in a tasting glass and smelled, as well as rubbed on the hands, which are then cupped, and sniffed. This is followed by tasting for first flavors, followed by tasting for finish. And, finally, coffee beans are sniffed to clear the nasal palate before proceeding to the next sample. When Nigel isn't educating people about his favorite spirits, he can be found in the garden, or farming, cooking, drinking beer, hunting and fishing, "but teaching about spirits is my passion," he says.
Cooking Demonstration
On Saturday, May 22nd, Adair's own Chef Steve Learned will present a cooking demonstration from 2:30 to 4:30 p.m. of steamed mussels with white wine and chorizo and a pan-seared tuna with chimichurri. Gin cordials will be served to accompany this delicious food tasting.
Friday Gin presentation is $60 per person
Saturday cooking demo is $50 per person
both events $100
Gentle Yoga by the Pond
Relax, rejuvenate and enjoy the spring sunshine with gentle afternoon yoga, outdoors by the lily pond, from 12:30 to 1:30 on Saturday, hosted by Adair's very own Meggen Wright, Assistant Innkeeper and Yoga teacher.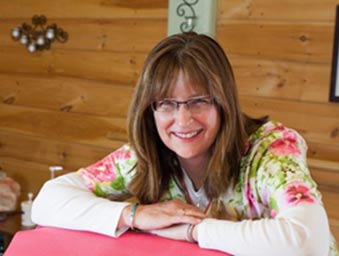 Meggen joined the Adair Inn team in May 2017 in both the restaurant and as an Assistant Innkeeper. She is also a Certified Yoga Therapist (through the International Association of Yoga Therapists) and a Registered Yoga Teacher (through the National Yoga Alliance) with a specialty in pain reduction and management. Her studio is in downtown historic Littleton. "I really enjoy helping people feel relief in mind-body-spirit" says Meggen "and have instructed over 700 therapeutic yoga and movement programs in a variety of settings from the Mid-Atlantic to New England for 15 years. No experience or flexibility required!"
Yoga for in house guests is free*
Yoga for non-guests is $15*
*reservation is required
Don't miss our Gin Spirit Tasting, Cooking Demonstration and Yoga Experience Weekend!
With Adair's Stay and Save Weekend package, reserve your spot for Friday and Saturday evening and get Sunday night free! Call (603) 444-2600 for details and reservations.

Stay and Save Special

Stay one night Midweek through July 1, 2021 and receive the Second Midweek Night Free!*
OR
Stay Two Nights on the Weekends through July 1, 2021 and receive the Third Night Free!*
*These extra night specials apply to new reservations only - reservation must be made by telephone, and cannot be combined with other offers/discounts.
Surprise Your Lover with a Romantic Getaway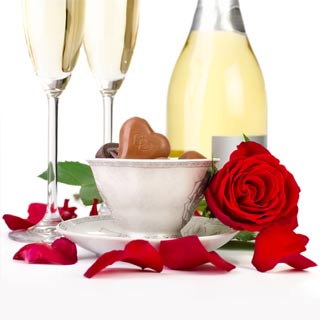 Celebrate the excitement and mystery of romance at the Adair Country Inn and Restaurant.
Surprise your lover with a special getaway any time. Stay in one of our romantic fireplace rooms or suites fully decorated with candles, fresh flowers and kissing Swans. After a relaxing bath, sit by your private fireplace in plush bathrobes and make a toast with a glass of bubbly, a deliciously sweet gourmet cupcake and savory toasted salted pecans.
Adair's romantic getaway offers up to half-price lodging and the touches above for an additional $125 your stay. Breakfast is included each morning of your stay.
If you choose, enjoy a quiet and romantic evening meal in the comfort and convenience of your own room, or join us in our cozy restaurant with a view of the fireplace from your table. After breakfast, enjoy a nice walk on the gorgeous wooded trails meandering throughout the estate.
Please call us at 603-444-2600 to plan your romantic getaway.
Elope at Adair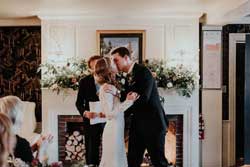 The romantic Adair Inn & Restaurant is an elegant setting for any couple who wishes to keep their wedding day intimate and simple.
Say "I do," at Adair, before toasting your new life together over a sumptuous three-course meal prepared by our executive chef.
Find our more →

Proud to be Yankee's New England Today Travel Editor's Choice for Best NH Romantic Getaway!