Bird Watching in the White Mountains
It's fun to watch and identify birds that come to your feeder, but even more interesting to spot birds in the wild and try to identify them from their shape, color, flight pattern and song. Northern New Hampshire is prime birding territory and depending on the time of year, you're sure to discover lots of birds to add enjoyment to your walk or hike. Warblers, for instance, are best spotted in May and June, while migrating waterfowl can best be seen in September and October.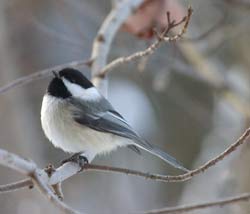 Common birds that flock to the White Mountains region of northern New Hampshire include the black-backed woodpecker, boreal chickadee, warblers, flycatchers, spruce grouse, grosbeak, and crossbills.
The 200-acre Adair property, which includes perennial gardens and walking trails, attract all kinds of songbirds. Check out these other prime birding spots nearby.
Pondicherry Wildlife Refuge
For serious birders or for anyone who would like an especially nice walk, we recommend a trip to the nearby Pondicherry Wildlife Refuge, a more than 6,000-acre sanctuary in Jefferson and Whitefield. From the parking area near the Whitefield airport, just off Route 115 between Twin Mountain and Jefferson, it's an easy 1.5-mile walk along the wide, flat trail - an old railroad bed - to the viewing platform at Big Cherry Pond. Nearby Little Cherry Pond is worth a look as well.
Pondicherry attracts birders from around the world who are eager to spot one of the 200 species that frequent the reserve, including nesting loons, blue jays, American bittern, osprey, eagles and songbirds of every variety. It's also not unusual to spot moose, deer, beaver and other critters. The view across the pond toward the Presidential Range of the White Mountains is spectacular at any time of year.
Bicknell's Thrush on Mount Washington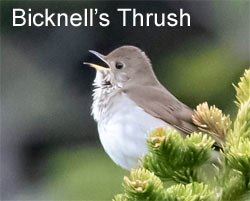 The rare Bicknell's Thrush, a bird that breeds at elevations above 3,000 feet, can be spotted on the western flank of Mount Washington in late May and early June. The Mount Washington Auto Road conducts tours to their nesting areas. Tours sell out quickly each year.
Franconia Notch State Park
A variety of birds can be seen throughout Franconia Notch State Park: at Profile Lake, Echo Lake, the Flume, Cannon Mountain, the Basin and along the Franconia Notch Recreation Path, a paved walking/biking trail.
At Profile Lake keep an eye out for great blue herons. Turn your gaze high in the sky and you might see hawks soaring overhead or a few peregrine falcons, which nest on the Notch cliffs. Other species often seen include white throated sparrows, hairy woodpecker, ruffed grouse, black-capped chickadee, purple finch, red-winged blackbird, ovenbird, dark-eyed junco, grey jay, American redstart, northern parula, and waterfowl like the common merganser, wood ducks and loons.
The Dells
The Dells nature trail close to Littleton's downtown borders a small pond that attracts many water birds like great blue herons and bitterns, as well as songbirds. A variety of wildflowers bloom along its edges during spring and summer. It makes for a lovely short walk and a moment's respite from a busy day exploring or shopping.
The Rocks Estate
A variety of hiking and nature trails crisscross The Rocks Estate, just down the road from the Adair. Expect to hear and see lots of bird activity, including the same songbirds that frequent the Adair property, along with panoramic views of the White Mountains.