Get Out & Explore the Franconia Art Walk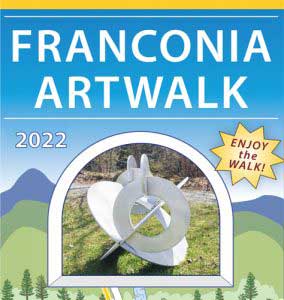 Enjoy an easy stroll in downtown Franconia that is both refreshing and eye-catching. Beautiful mountain and river views provide a natural backdrop for the Franconia ArtWalk outdoor exhibition of sculpture, mosaics, architecture, ceramics, paintings and gardens.
The easy, self-directed walking tour meanders along Main Street and the Gale River, with a loop across the Hillwinds Bridge and past the Dow Academy. An interactive map guides visitors to the 31 pieces of art on display this year.
The ArtWalk is open from July through Columbus Day weekend in October.
Inspired by nature and the arts, the Franconia ArtWalk Association promotes tourism and enhances the creative aspects of the Franconia Notch Region of the New Hampshire White Mountains.