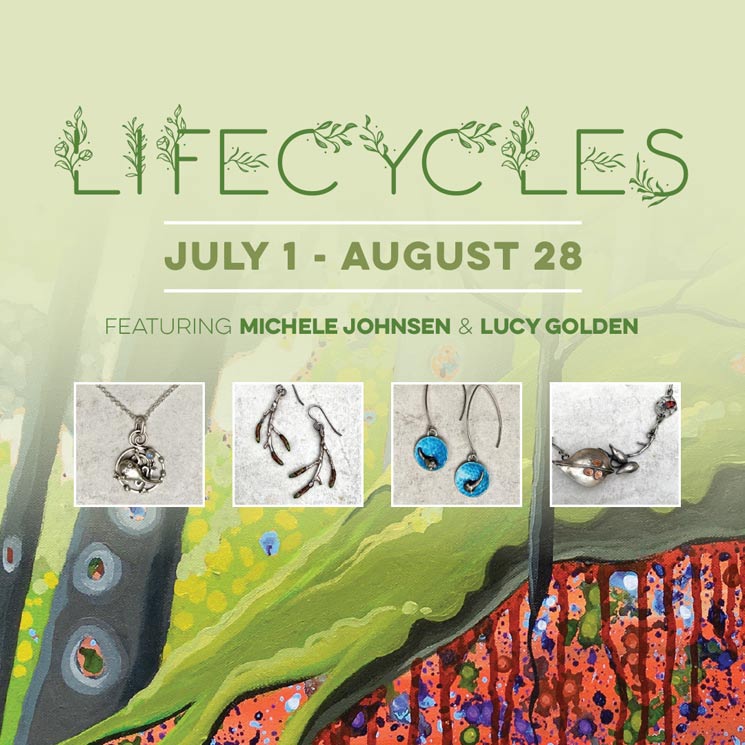 Lifecycles Explores the Mysteries of the Natural World
Exhibit Runs Through August 28
Lifecycles, the newest exhibit in the Arts at Adair Series, features the work of metalsmith Lucy Golden and landscape painter Michele Johnsen.
The exhibit is currently on display at the Gallery at WREN on Bethlehem's Main Street through Sunday, August 28, with select pieces on display at Adair.
Adair has joined with WREN (Women's Rural Entrepreneurial Network), as one of its partners in the Arts at Adair series that includes all forms of art, including painting, music, photography and more.
Meet the Artists
A lifetime artist and maker, Michele Johnsen, in addition to her personal practice, taught art for 15 years in the Colebrook School system and, in 2017, received a Master of Fine Art from New Hampshire Institute of Art. Michele retired from teaching in 2020 to devote herself fully to her artistic practice.
"I'm fascinated by the human-like qualities displayed by trees," says Michele of her work in Lifecycles, "such as the inclination to protect, nourish and cooperate with the trees and plants around them. This new body of work continues to explore the relationship between the over- and understory as it applies to the natural world."
Meet Michele in the comfortable sitting room at the Adair Inn from 4:30-5:30 p.m. on Sunday, July 10, see select paintings from the Lifecycles exhibit and learn about her artistic process.
Reservations are encouraged for the free artist event. To reserve a seat, please call the Adair at (603) 444-2600. Masks are strongly encouraged.
An avid naturalist, metalsmith Lucy Golden feels fortunate to be able to explore her interests in the world around her in her work as a jewelry maker. She draws her inspiration from the glorious array of wildlife - mushrooms, insects, wildflowers and birds - that is found throughout New Hampshire's White Mountains region.
"I see the world through the lens of a line from a favorite Rebecca Solnit essay, Letter to a Young Climate Activist on the First Day of the New Decade," says Golden. "Solnit writes 'life wants to live.' It's such a simple explanation, but captures the common ground that all living things share, from single cell organisms to the complexity that is homo sapiens. It opens the door to just how miraculous life is in all its different forms. This work is a tribute to the life that surrounds us in its various forms and their stages."
Lucy will give a "moth talk" with live caterpillars on August 21 at WREN, describing how the many varieties of moths inspire her work. More information is available at wrenworks.org.
About the Artists
Lucy Golden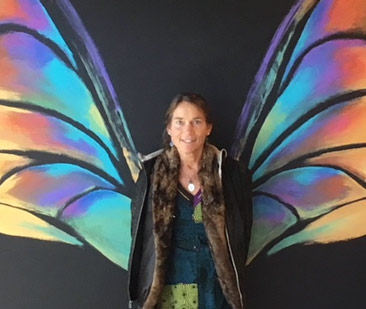 "That life wants to live, and has evolved to coexist in various life cycles and ecosystems simultaneously chaotic and ordered, both fascinates and inspires me," says metalsmith Lucy Golden. "This inspiration propels me to work in my medium of choice, metals, to capture life in its various forms, in all of its glory."
Lucy is also inspired by the work of Maria Sibylla Merian, a 17th century European artist who studied the life cycles of insects and their interactions with host plants, and painted these cycles in stunning works. "Her work especially resonates with me because I love moths. I raise several native species: lunas, cecropias and others. In raising them, I have come to appreciate each stage: the caterpillars in their various instars, how they change so much, camouflaging in their brown-to-greening spring foliage environment, the intricate cocoons they weave at just the right times, the exquisite adults that emerge and take flight, and then the precious pearly eggs that hatch into caterpillars, thus completing the cycle."
Lucy fabricates her pieces out of sterling silver, brass and copper sheet, and wire, adding color with various paints, pigments and resins, as well as with fired glass enamels.
"I love that we are surrounded by such diverse and vibrant life, and are actually connected to these fertile pools, as observers at least," she says. "The fact that all of this life surrounds us is somehow both miraculous and reassuring. I feel fortunate to have the opportunity to both explore and celebrate this in my jewelry as a precious reminder that life, above all else, wants to live."
Lucy says she hopes that her jewelry serves as a reminder of the wonders of the natural world, as conceptualizing and making it brings this home to her.
She began making jewelry in high school and took jewelry classes at RISD while earning a BA in Semiotics (symbolism) from Brown University. She worked in the fashion jewelry industry in Manhattan before moving to New Hampshire. She has been a juried member of the League of NH Craftsmen for over 30 years. She has enjoyed teaching metals and jewelry-making at the Littleton Studio School and is an enthusiastic believer in the power of creative expression.
When not in the studio, Lucy can be found foraging for mushrooms, tending to her moth- and mantis-raising projects, and tromping through the great outdoors. It is often during these times that creative ideas present themselves.
Michele Johnsen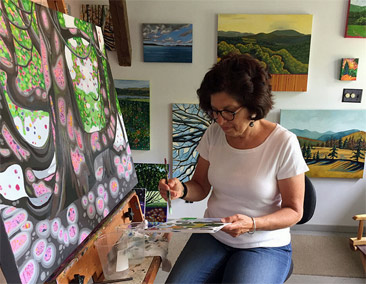 Landscape painter Michele Johnsen describes her interpretation of the intimate communications of trees and plants through the use of energetic mark-making and a vibrant color palette, all signifiers of the seemingly magical interactions that take place in the natural world.
"My hope," she says, "is that viewers are prompted to think about what we can learn from them and question our responsibility as beings that share the planet."
A lifetime artist and maker, Michele has owned and operated The Studio since 1996, where she's done all manner of commercial work, including framing and sign painting. She forayed into the fine art world during this time and produced a large number of portrait pieces for a wide variety of clientele.
In 2001 she received a Bachelor of Science from Granite State College in Art Education and spent 15 years teaching art in the Colebrook School System to students in grades 1 through 12. In January 2017, she received a Master of Fine Art from New Hampshire Institute of Art, and in 2020 she retired from teaching to devote herself fully to her artistic practice.
Johnsen has been instrumental in establishing several art associations in the Colebrook area, including Lovering Mountain Arts, Colebrook Arts and the Great North Woods Committee for the Arts. She is currently on the board of the Connecticut River Artisan Group and The Tillotson Center for the Arts. Her work has been included in a long list of group and solo shows around the country, including The NH Institute of Art Biennial, Manchester, NH; Climate Gallery in Long Island City, NY; The Shaw Gallery in Keene, NH; Soo Rye Gallery in Rye, NH; Exeter Fine Crafts in Exeter, NH; and The Library Arts Center in Newport, NH. She is currently represented by the Gallery at WREN in Bethlehem, NH and The Three Sisters in Gorham, NH.
Johnsen has been the recipient of many awards and accolades, among them the winner of the First Night NH Logo Competition in Concord, and the People's Choice Award for the Hanover Chamber Orchestra. She recently appeared on the cover of the New Hampshire Public Radio Christmas Card and was a 2020 Selection Winner at the Juried Regional Exhibit at the Library Art Center in Newport, NH.
Her work appears in several corporate and museum collections including the Rochester Museum of Fine Art, The Coös County Courthouse, and The Colebrook District Court House.
Major publications featuring Johnsen's work include The Best of Colored Pencil II & III, Creative Colored Pencil, the cover of the March NH Bar Journal, Studio Visit volume 43, and The Best in American Watermedia by Kennedy Publishers. Johnsen was also a recent guest on the Artist/Mother Podcast.

Proud to be Yankee's New England Today Travel Editor's Choice for Best NH Romantic Getaway!