Riding the Notches: Touring on Your Motorcycle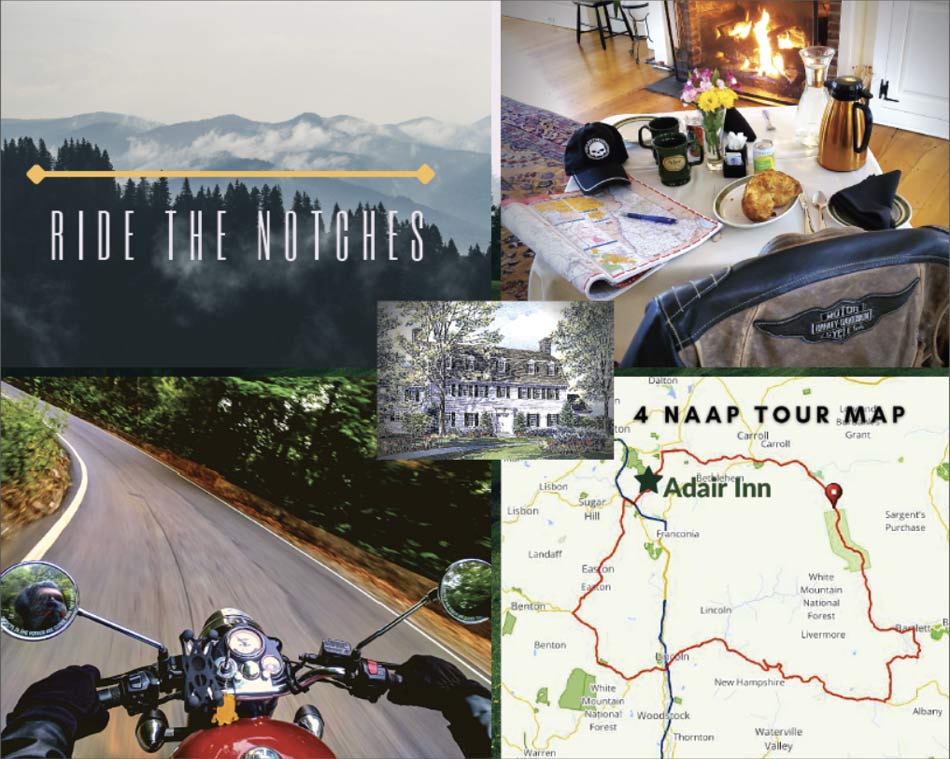 I grew up two miles south of Bryar Motorsports Park in Loudon, NH, which is now known as New Hampshire Motor Speedway. Motorcycle weekend began in New Hampshire in 1923 as the Loudon Classic Motorcycle Race, along with the Gypsy Tour where thousands of bikes cruised through Weirs Beach and Laconia.
With such a long history of motorsports in this state, motorcycling has become a passion and lifestyle that has evolved into one of New Hampshire's most popular pastimes. This year's early end to winter, and with the road salt cleaned up, means this is going to be a great bike season!
There are several classic riding tours that really shouldn't be missed when visiting. Many of the best are right here in our nearby mountain notches. My favorite is the 4 NaaP, which is short for "4 Notches and a Pass." The cruise includes Kinsman, Crawford, Franconia, and Bear Notch, as well as the famed Kancamagus Highway. The ride is 94 miles long with 8,000 feet of climbing and 14 miles of descent!
I am not sure if it is better to be the driver or passenger, as the views are out of this world no matter which seat you're in. The winding roadways have a nice combination of stunning tree canopies, wide-open skies, a smooth glide, and a velvety feel. There are abundant roadside waterfalls, family-owned restaurants, and interesting history to check out during this tour. Adair Inn has a home away from home feel and is perfectly located on Route 302 in the heart of this spectacular route. The Inn has everything you could need without leaving the Estate and is where you'll want to return after a day of Riding the Notches: Award winning dining on our gorgeous patio or vintage dining room, a hearty three-course breakfast every morning, acres and acres of wilderness, a firepit to enjoy a cold one with a view of the mountains, a pool table in the stone Granite Room, and more. The Inn is part of a grand estate that offers travelers a wide variety of lodging options, from individual guest rooms to full home rentals. I hope you can come stay with us and enjoy great riding adventures in the saddle or the sidecar!
- Stacey Rachdorf, Innkeeper