A Winter Wonderland Awaits!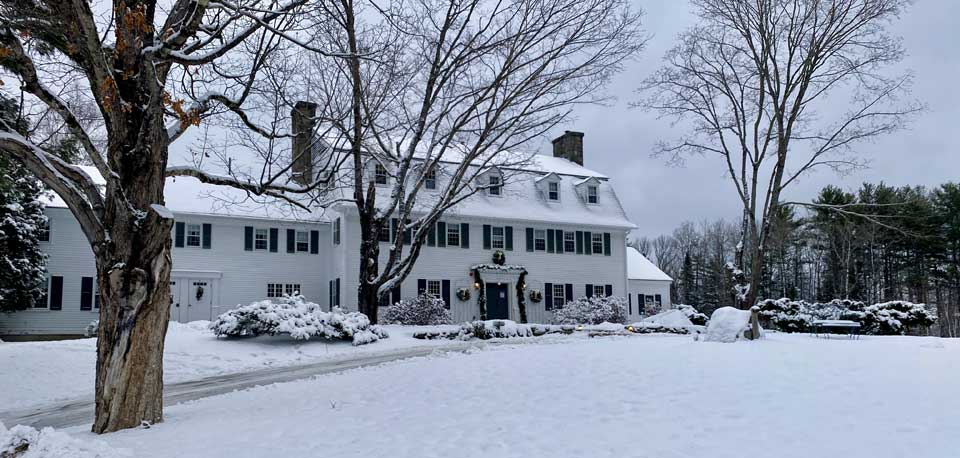 We understand if you want to spend the winter months indoors sitting by a roaring fire, warming your hands on a cup of hot chocolate or socializing with friends over a glass of wine. Sometimes that's just our cup of tea and we like to sink into one of Adair's comfy sofas or chairs in front of the Adair's living room fireplace and while away some hours.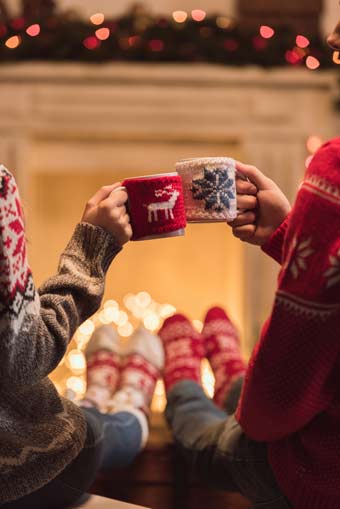 But when we want to get outdoors, there is a wide array of activities to choose from. For the sporty and adventuresome crowd, there are many downhill skiing, snowboarding and snowmobiling opportunities nearby. For those looking for a slower paced activity strap on a pair of snowshoes, hit a cross-country skiing trail or book a romantic sleigh ride. Each activity has its appeal, but they all come with a side benefit of breathing frosty crystalline air, feeling the wind in your face and playing in piles of fluffy snow! Snow angels, anyone?
Snowshoeing: Strap on a pair of snowshoes (yours or ours) at the front door of the Inn and set off to explore our 200 acres of easy-to follow trails. Tramp another five miles of trails at the neighboring Rocks Estate, or one of the many trails in Franconia and Crawford Notch State Parks.
Check out Adair's Snowshoe Getaway.
Dog Sledding: A dog sledding adventure at Muddy Paw Sled Dog Kennel is an exhilarating way to experience New Hampshire's winter landscape. Let a team of frisky and friendly sled dogs and their musher take you on a ride along beautiful snowy fields and trails in the shadow of Mount Washington and the Presidential range. Visitors are encouraged to interact with the rescue and second-chance dogs, give them belly rubs, harness them, hear their stories and help drive the teams.
Adair's Dogsled Adventure will have you on your way to an amazing experience in no time!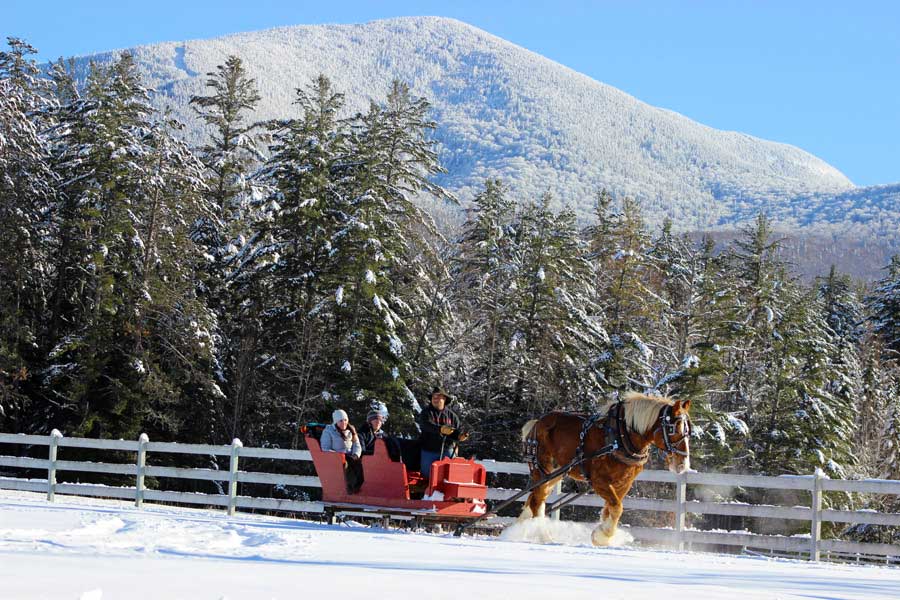 Sleigh Ride: "Over the river and through the wood...." The nostalgic song captures just the feelings you'll experience all bundled up in an antique red sleigh pulled by a magnificent Belgian draft horse, on a 30-minute ride across the snowy fields around the Franconia Notch Stables.
Take advantage of the Inn's Sleigh Ride Getaway and you'll soon be singing that tune.

Cross-country Skiing: Cross-country skiers can access miles of trails crisscrossing the 200-acre Adair property. A little further afield are 100 km of world-class Nordic trails at the Bretton Woods Nordic Center, the 65 km single track trail system at the Franconia Inn, and trails at the beautiful Rocks Estate Christmas Tree Farm just across the street from the Adair.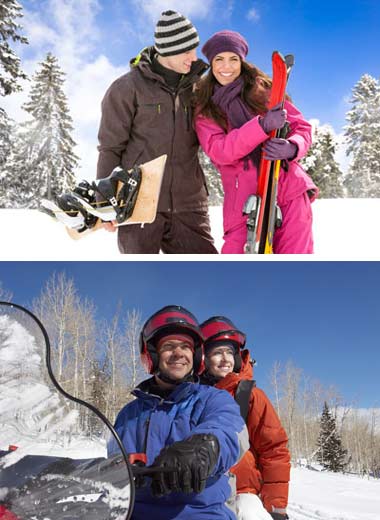 Skiing & Snowboarding: Did you know that when you plan a winter getaway at Adair, you are in close proximity to several major ski areas, including Bretton Woods, Cannon Mountain and Loon Mountain, making it possible to ski or snowboard new trails every day of your visit? And Adair offers discounted tickets to these mountains.
Snowmobiling: Miles and miles of groomed trails through the beautiful woods and snowy fields and valleys of northern New Hampshire provide hours and hours of fun and the opportunity to explore the vast northern landscape. Trailer your machine and park it securely in our barn, then hop onto one of the trails on the Inn's property that connect to the state's trail system through marked corridors. All you need is a New Hampshire permit, and we can point your in the right direction to obtain one locally. Need to rent a machine? We can help you with that, too.
Mount Washington Cog Railway: The world's first mountain climbing cog railway ascends the western flank of Mount Washington to its summit at 6,288 feet during the summer months. During the winter, you can experience the thrill of riding this train in a heated carriage as it ascends the mountain to Waumbek Station, an alpine meadow at about 4,000 feet with spectacular views. The comfy stopping point has a warming hut, fire pit and complimentary hot beverages. Cog Railway website
SnowCoach: For a unique winter experience, book a seat on the Mount Washington Auto Road's SnowCoach, a specially equipped heated vehicle that transports passengers to tree line at about 4,200 feet, where the jaw-dropping views of this sub-arctic world will amaze you.
Ice Castle: Towering walls, caves and tunnels created using a latticework of icicles and a vast sprinkler system form a fairytale wonderland for visitors to Lincoln's Ice Castle, where some of the fantastical creations reach 25 feet high! At night, multi-colored lights transform the castle into a frozen, glowing Narnia.


Proud to be Yankee's New England Today Travel Editor's Choice for Best NH Romantic Getaway!