"Echoes and Reflections" Exhibit
Exploring the Intersection of Abstract Painting & Modern Quilt Making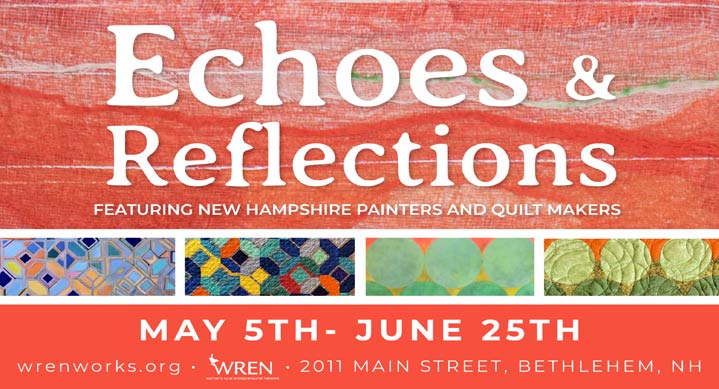 Four quilt makers and two painters have collaborated on the latest exhibit in the Arts at Adair series. Echoes and Reflections examines the symmetries between abstract painting and modern quiltmaking with a focus on bold color, asymmetry and the use of negative space. On display are 12 paintings and the 13 quiltworks they inspired.
Visit the Echoes and Reflections exhibition at the Gallery at WREN on Bethlehem's Main Street through June 25, with select pieces at Adair.
"The first time I saw them, Jim Wolcott's grid-based paintings looked like quilts to me," explains Ruth Fischer, co-owner of Contoocook Quiltworks, "but with an unfamiliar use of color and fewer repeating patterns."
Fischer, who had been visiting Wolcott's studio, thought the combination of quiltmaking and abstract painting would make a great exhibition. The idea blossomed into a working partnership in which Fischer borrowed Wolcott's paintings to study their color and composition, and brainstorm possibilities for quiltmaking. Like-minded painters and quiltmakers joined in on the exchange, resulting in enough quilt "echoes" of paintings to fill the first iteration of Echoes and Reflections, hosted by Two Rivers Art Society in Contoocook in the spring of 2022.
"I find a collaborative approach to art very rewarding," says Jim Wolcott, "both for the ultimate richness of the product and for the interpersonal feelings that the artists may experience - even if they don't really know each other."
"Jim, who has deep family roots in Bethlehem, visited WREN last summer and as we got to talking, he told us about this show he had recently been involved in," says WREN Marketing & Programs Manager Scarlett Moberly. "Jim's energy and enthusiasm about the project was contagious, and we realized the exhibition's premise fit perfectly with WREN's ethos of collaboration and innovation, and in its union of fine art and craft."
o features six New Hampshire artists, including painters Jim Wolcott and Pam Tarbell, and quilters Ruth Fischer, Hester Campbell, Diane Chartier and Deborah Rivers.
About the Artists
Painter Pamela Tarbell
"As a musician strives for a variety of vibrations in sound, my goal is creating visual color vibrations. I greatly admire the paintings of Wassily Kandinsky in profession and thought. Kandinsky said, 'Color provokes a psychic vibration. Color hides a power still unknown but real, which acts upon every part of the human body.' I explore different subject matter in my paintings with a need to always challenge myself with complex compositions and color combinations as I listen to music."
Pam is a generous, prolific, and well-honored studio painter based in Concord, NH. Founder of the Mill Brook Gallery & Sculpture Garden, she passionately promotes the visual arts in New Hampshire through her gallery, and through her volunteer work with several arts organizations. Pam enjoys creating complex compositions with a variety of bright colors. Her goal is to have paintings in which the viewer will always find something new to enjoy.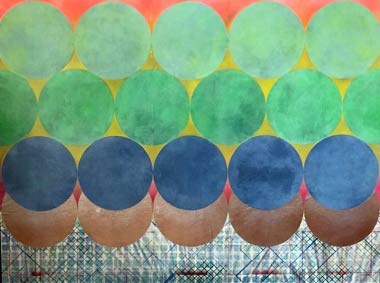 Painter James Wolcott
"My art journey has always been dominated by painting. In the '70s I learned how to produce acceptable landscapes and still lifes in watercolor and acrylics. I never felt, however, that these efforts satisfied my creative curiosity nor did they move me towards discovering my own aesthetic voice. I then found myself seriously exploring abstraction. For many years, due to educational, professional and family demands, this was primarily through observation and reflection. In abstract painting I began to hear that individual voice."
In the early '90s, Jim began producing pieces that he felt were completely his own. These small works were his first with non-traditional materials and techniques drawn from his own imagination. They were the first steps of a journey that continues today. "My work now, while completely abstracted, is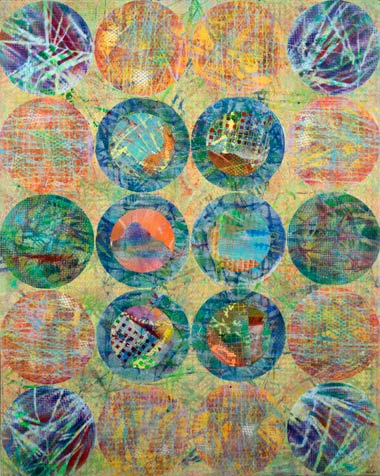 grounded in and dependent on observation of our organic and inorganic world. I see things every day that capture my imagination and which challenge me to find ways to incorporate them into paintings; such things might include a simple plant form or texture or a curious light reflection."
His current work has become quite complex in technique, texture and color. He has expanded his techniques and materials through constant experimentation and revision. Grids, both formal and informal, play an important role for him compositionally and emotionally. "Making art is an anxiety inducing activity. Grids calm me and my paintings. I believe they ground my artistic instincts and allow me to more fluidly explore my visual interests."
Jim's undergraduate degree in Studio Arts gave way to a successful career in diagnostic radiology. Since retiring, he is more fully dedicated to his artistic journey. He works out of his studio in Penacook, NH.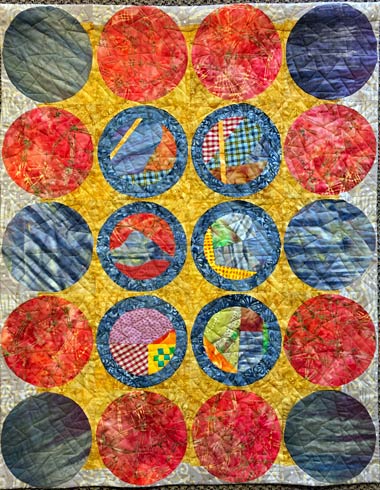 Quilter Hester Campbell
Hester Campbell began her quilting career in 1979 by way of an evening extension program at Concord (NH) High School. Via that program, "I gained a strong grounding in piecing and hand quilting. I still hand-quilt to relax and always have a hand-quilting project underway."
At the same time, Hester embraces the aesthetics and time-savings of modern quilting. She delights in advanced classes and online tutorials that continue to boost her considerable skill as a quilter.
The daughter of a Foreign Service official, Hester was born in Turkey, raised in India, and educated in the US. Recently retired from the business of selling books to academic libraries, Hester is co-owner of Contoocook Quilt Works.
Quilter Diane Chartier
Diane Chartier took an interest in quilts during the mid-'70s, while working at So-Fro, the predecessor to Joann Fabrics. "Inspired by colors and patterns, I like to adapt what I see into something fun to make."
Like many contemporary quilters, Diane describes herself as a piece maker, often leaving the actual quilting to others. Many of Diane's contributions to this show incorporate a method called appliqué, in which pieces of fabric are sewn or stuck onto a large piece of fabric to form pictures or patterns.
Diane is a New Hampshire native, living in Warner. Now happily retired, she spent most of her working years with the US Postal Service. In addition to quilting, Diane is a passionate gardener and builder of stone walls.
Quilter Ruth Fischer
"I am a maker, edging towards artistry. My natural inclination is to craft interesting, useful, and occasionally beautiful things with whatever materials are at hand. I like to solve problems, I have good dexterity, and a driving sense of color. Quilting is a hobby well-suited to these instincts."
Ruth made her first quilt when she was a teenager, using her mother's Singer and her fabric scraps. Since then, she's made hundreds of quilts, finding immense pleasure in their colors, patterns, utility, and permanence, noting "I love how they age with the owner."
For years and years, she was happy to copy or springboard off of other people's quilts, necessarily acquiring an arsenal of technical know-how. But within the last several years, she had begun to seek other sources of inspiration.
"The first time I saw them, Jim Wolcott's grid-based paintings looked like quilts to me, but with an unfamiliar use of color and fewer repeating patterns. Having had the opportunity to study and then 'echo' Jim's work, I have begun to think differently about the overall composition of my own. I'm learning to slow down; to push past old comforts; and to see quilt prospects everywhere!"
Never one for formal classes or traditional techniques, Ruth is self-taught. She is inspired by the work of modern artists and quilters, and is willing to break rules. Her experimental use of colors and fabrics sometimes brings an edginess to her quilts that can surprise even herself. Every finish makes her happy to try again. A retired manager, analyst, and consultant to academic libraries, Ruth is co-owner of Contoocook Quilt Works.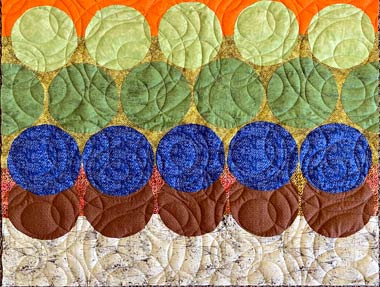 Quilter Deborah Rivers
Deborah has been involved in sewing and crafts since her pre-teen years when, "under the watchful eye of my mother, I learned the art of sewing on my grandmother's Singer machine."
Deborah started out making doll clothes and soon advanced to making clothing for herself, her family, and friends. She also made her own wedding gown. By her senior year in high school Deborah was selected as "Homemaker of the Year" based on four years of excellence and application of knowledge.
"With a strong passion for fabrics, textiles, and woolens, I first developed my love for quilting in 2000, after selling a bridal boutique that I had owned and operated for more than a decade."
During those years Deborah served as the head seamstress for the boutique, working with brides and prom girls and specializing in formal wear alterations. With the sale of her boutique, Deborah had more time to explore new and creative ways to apply her quilting skills, favoring techniques such as needle turned appliqué, English paper piercing, and embroidery.
Deborah now designs and makes quilts in her home studio in Contoocook, NH. Her days are spent living along the river with her husband Jim and their dog Ziggy Marley. In addition to quilting, Deborah also enjoys cooking, crafting, repurposing found items, gardening, kayaking, and traveling.

Proud to be Yankee's New England Today Travel Editor's Choice for Best NH Romantic Getaway!