"Northern Exposure" Features Artists Mimi Wiggin and Jeanette Fournier
Exhibit Runs October 16 - November 6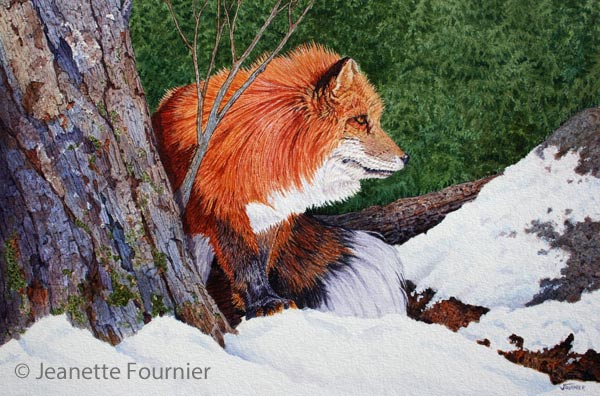 'Woodland Spirit' by Jeanette Fournier
Jeanette Fournier and Mimi Wiggin immediately hit it off when they met years ago at an outdoor art show and became fast friends. They knew that their mutual interests in painting nature and wildlife and their concern for wildlife preservation would be a timely theme for a show together, but their schedules never seemed to fit.
This year, the stars aligned and "Northern Exposure" was brought to life, showcasing the stunning images they create of the birds and wildlife they observe, both in their own backyards and further afield in New Hampshire's rugged northern forests and mountains.
"Our styles and mediums are quite different but we both have a passion for painting the natural world," says Jeanette.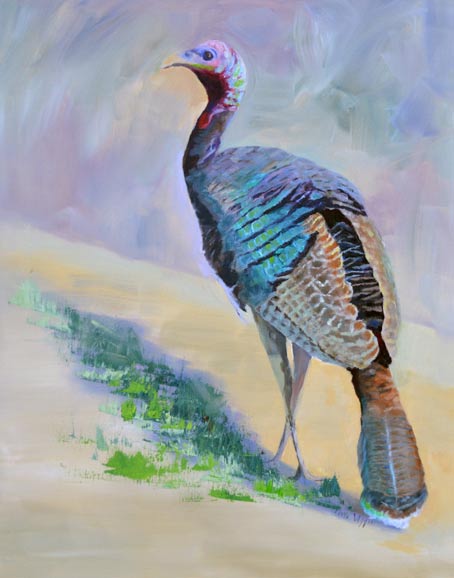 'Watchful Eyes' by Mimi Wiggin
"We share the same love of nature, focusing on birds and animals," Mimi says. "This is the show we always wanted to do."
Many of the inspirations for Mimi's and Jeanette's images might be found right on the grounds of the Adair estate, with its lush 200 acres of gardens and woodland paths, where many kinds of birds and wildlife, like deer and moose, thrive. Their paintings give us an up close and personal look at many of the animals and birds found throughout New Hampshire and nearby Vermont, and are an inspiration for all of us to take time to stop and observe the natural world and all its creatures.
The "Northern Exposure" exhibition runs from Friday, October 16 through Friday, November 6. Jeanette and Mimi will be at Adair at 4 p.m. on Friday, October 30, for a free Meet and Greet, where members of the public can meet them and learn more about their art.
For this show, Adair joined with WREN (Women's Rural Entrepreneurial Network) at 2013 Main Street in Bethlehem, one of our partners in the new Arts at Adair series that will include all types of art throughout the months ahead, including painting, music, photography and more.
At the close of "Northern Exposure" at WREN, the artists' paintings moved to Adair and will be on display in the Inn's inviting living room and other public spaces.
About the artists: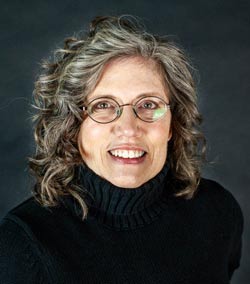 A self-taught artist, Jeanette Fournier works from her Littleton studio where she creates original watercolor paintings that give a close up, intimate portrait of animals, birds and nature. Her detailed watercolors display a distinct and original style not commonly found with this medium.
"For this exhibition, I chose to focus on the birds and animals found in the northern regions of New Hampshire and Vermont," she says. "In particular, I was drawn to creating artwork of the creatures we delight in seeing as well as a few of the ones rarely encountered."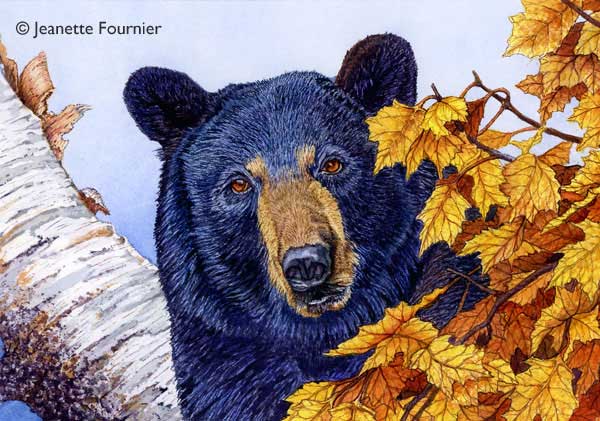 'Autumn Color' by Jeanette Fournier
Jeanette's work has been juried into several prestigious regional and national exhibits and she is the recipient of many awards. She received the top award, the William Brauer Memorial Award, at the Green Mountain Watercolor Exhibition, has been a finalist in The Artist's Magazine's annual competition, and placed 3rd in the Maryland Black Bear Conservation Stamp competition. Her work has been juried into several prestigious regional and national exhibits.
She is a member of the Copley Society of Artists, the American Watercolor Society, the New England Watercolor Society and a signature member of the North East Watercolor Society and the Vermont Watercolor Society. She is an Associate member of the Society of Animal Artists and the American Women Artists organizations.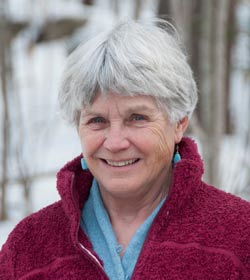 "Northern Exposure is a snapshot of my observations of nature in my backyard and my home state of New Hampshire," says Mimi Wiggin, who lives and paints in Warner. "I painted each of these birds and animals, being keenly aware that some are quite common, some are noted as species of concern, some are threatened and some are endangered."
Painting with oils in a representational style, Mimi's art is a way of expressing her feelings for the natural world. "The outdoors has always been a wonderment to me. In my paintings I want to pass along this wonder and raise awareness of what is in our backyards to encourage every one of us to live in harmony with our natural surroundings."
Mimi's work has been featured in Kearsarge Magazine, SooNipi Magazine, The Art & Gallery Guide, and Forest Notes. Her work is also featured as covers and illustrations in the books, Poems of Old Warner and Mount Kearsarge (2012); Educators and Agitators - Selected Works of 19th Century Women Writers From a Small New Hampshire Town (2013); and Mount Kearsarge - History, Stories, Legends & Folk Tales (2015). Fiddlehead Magazine featured her work on its January/February 2018 cover.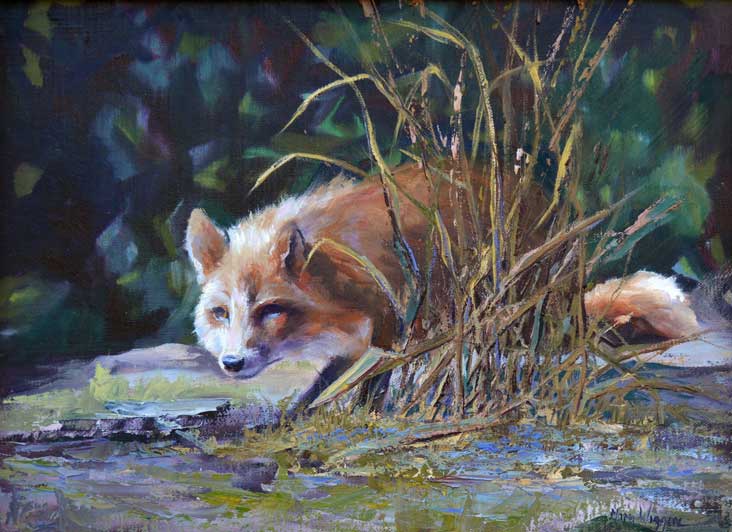 'Leisurely Stroll' by Mimi Wiggin
Join the conversation:
Reservations are encouraged for the free Meet and Greet event. To reserve a spot, please call Adair at (603) 444-2600.
Following current COVID-19 recommendations, social distancing measures will be in place, and attendees who visit Adair must wear masks.

Proud to be Yankee's New England Today Travel Editor's Choice for Best NH Romantic Getaway!