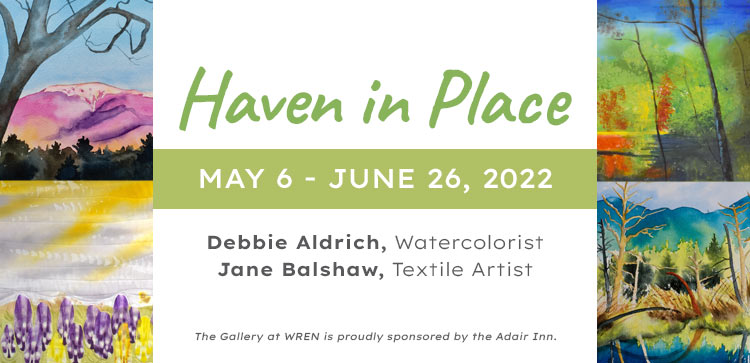 Haven in Place Is A Celebration of Home & Comfort
Watercolorist Debbie Aldrich spent 21 years in Dallas and Houston before returning to New Hampshire to live in the house in Sugar Hill that her ancestors built in 1899. Textile artist Jane Balshaw grew up in California, but now makes her home close to nature in New Hampshire.
Haven in Place celebrates the artists' intense feelings of belonging and home in the Granite State that is reflected in their colorful bodies of work: landscapes, still lifes and experiments in abstraction. The public is invited to meet Debbie Aldrich at 4:30 p.m. on Sunday, June 5, when she will share her artistic process in painting her exuberant and color saturated watercolors and a return to a previous passion, still life paintings.
The Haven in Place exhibit is currently on display at the Gallery at WREN on Bethlehem's Main Street through Sunday, June 26, with select pieces on display at Adair.
Reservations are encouraged for the free Artist event on June 5. To reserve a seat, please call the Adair at (603) 444-2600. Masks are strongly encouraged.
About the Artists
Watercolorist & Still Life Artist Debbie Aldrich
Born and raised in Sugar Hill, New Hampshire, Debbie says that her "first memory of painting is at a tiny easel, her mother's hand guiding hers, and a brush in hand with red paint."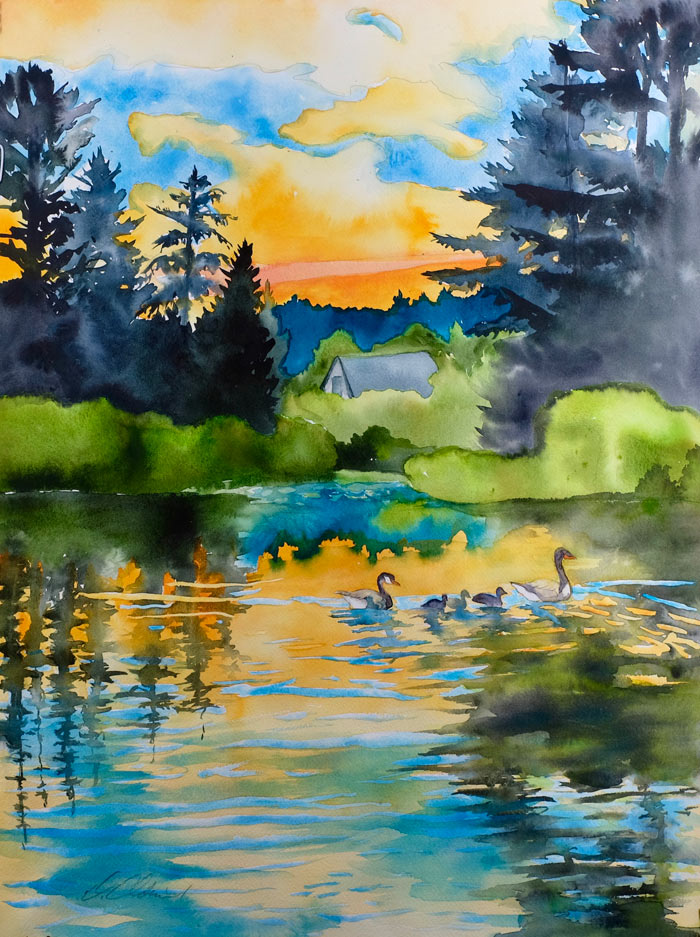 'Sunset at Coffin Pond' by Debbie Aldrich
She lives in a house her ancestors built in 1899 that has fabulous mountain views that inspire her as it did generations of her family. Returning to her New Hampshire home after more than two decades away she asks, "What does that mean to me as a person and my practice of art? Quite simply this is my place of safety and refuge, not just the place where I live. The constant changing of the seasons brings about different lights, colors, and moods that are infinitely inspiring to me."
Out walking or driving, she'll stop to photograph the stunning natural world around her and "the colors, shadow and folds in the mountains." She uses these images as inspiration as she transforms them "into something more with my watercolors using highly saturated colors to express emotion."
Debbie has also returned to an old love, painting still lifes that are inspired by objects her ancestors held dear, such as a locket that was a wedding gift and other objects collected and used.
Debbie studied at Colby Sawyer College in New London, New Hampshire, and at The School of The Museum of Fine Arts Boston and The Glassell Museum School of Art in Houston, Texas.
She has received numerous awards for her work, shown in group, juried and two solo gallery shows, and her work is in individual collections all over the country.
For the past 17 years her studio has been in the family home in Sugar Hill.
Textile Artist Jane Balshaw
A fourth generation artist, Jane learned her craft through observation and experimentation. As a young artist she earned her living as a silversmith and jewelry maker. As she transitioned to dressmaker, makeup artist, aesthetician and stylist, she also practiced carpentry and interior decorative arts for personal expression.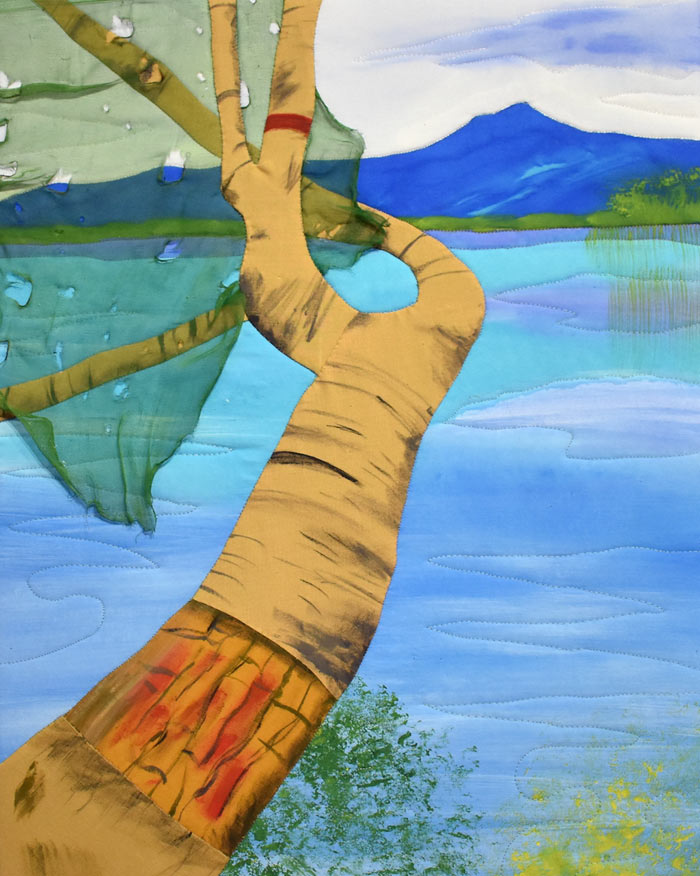 'Leaning Towards Chocorua' by Jane Balshaw
Jane discovered quilting in the '80s and through this medium many of her skills came together to form her individualist style of art, using the time-honored craft traditions of cloth, needle and thread, expressed through the eyes of a painter. When Jane moved to New Hampshire she was stunned by the "days so long and days so short, natural changes so dramatic, and colors so vivid. It's the light. In California where I grew up, the high bright light of constant sunshine provided little rest and reflection for my creative mind. But here, the deep stillness of nature, contrasted with its energetic swings, seems to connect all those in-between spaces in my mind and spark that fire of original thought."
Her recent work represents the color inspirations she sees in the natural world and "the startling, lush beauty that is this state." Noting that she was a quilter before a figurative painter, the paintings are executed on cloth, and then stitched to produce a quilted image. She often embroiders and appliques or embellishes her pieces with collage. "My work," she says, "is intended to be at once pleasing to the eye yet yield surprises when viewed up close. Just like nature."

Proud to be Yankee's New England Today Travel Editor's Choice for Best NH Romantic Getaway!