'Light &amp Form: Northern Landscapes' Celebrates Our Natural Landscapes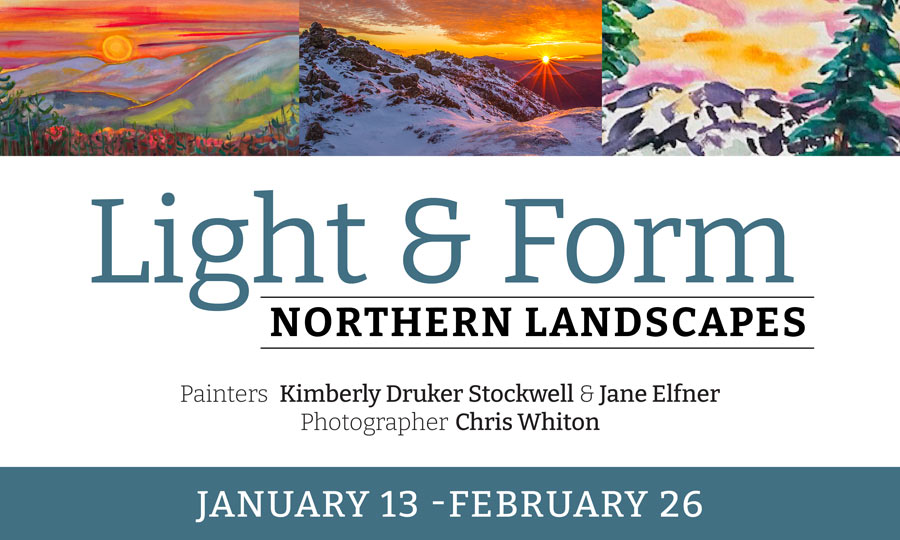 currently on display at the Gallery at WREN on Bethlehem's Main Street through Sunday, February 26, with select pieces on display at Adair.
The trio of artists featured in Light & Form: Northern Landscapes are inspired by the mountains, lakes and forests that surround us in northern New Hampshire.
The White Mountains region as seen through the lens and creative imaginings of photographer Chris Whiton captures the transformative beauty of the northern landscape, while mother and daughter duo Jane Elfner and Kimberly Druker share their love of the region through their paintings.
Light & Form: Northern Landscapes is currently on display at the Gallery at WREN on Bethlehem's Main Street through Sunday, February 26, with select pieces on display at Adair.
The public is cordially invited to drop by the Adair to view the artwork on display.
About the Artists
Photographer Chris Whiton
Chris Whiton finds that his creative process follows several paths that eventually merge into a final creation.

First comes the spark of an idea, usually a place that he wants to return to during specific conditions in a particular season. With hundreds of locations lined up, and previously scoped out with compositions in mind, Chris waits for just the right time.

Next comes making the trip and lining up the shot. Not wanting to waste any opportunity, he also spends time with a second camera taking different angles, close ups and anything else that sparks his interest. "Sometimes these 'B' shots end up stealing the show," he says.

Lastly, these thousands of photos are combed through and the best images are brought to the top. These raw images are processed in the digital darkroom, bringing out details, shadows and highlights.

"The flexibility of post-processing makes for limitless freedom in the creative process through the use of layers and light painting," says Chris, "but I find it is important to keep true to the original scene as it was witnessed."

A New Hampshire native and longtime Bethlehem resident, Chris has been dabbling with photography for several decades. It started as a hobby and eventually grew into White Mountain Images, a solid photography business dedicated to capturing the beauty of the northern half of the state.

Chris's love of photography initially stemmed from a long involvement with oil painting. The creative working and re-working with oils to produce different results never ceased to amaze him, and he found that a digital darkroom has similarities to the magic of oils; painting with light instead of a brush and canvas.
Painter Kim Druker Stockwell
Kim Druker Stockwell's current work focuses on the White Mountains of New Hampshire. Painting en plein air, the work is less about rocks and trees than color and light.
"The patterns created by different species of plants and trees are reflected on my canvas in a series of playful brush lines and swipes of pallet knives, toying with appearance and reality."
The challenge of painting in the natural world is conveying the ever-changing sky and its effect on what lies below, she notes. Kim's aim is not to replicate nature but to impress upon the viewer the unnatural color, shape, and shadow that we may not be aware of when we view the mountains. Acres of area covered by the shadow of a cloud are painted deep purple, while spring fields shock with yellow green. In fact, these are colors we see, and are not imagined.
"A walk in the woods shows us nature is multi-layered with mud, rock, trees, animals, and the effects of weather (and humans) contributing to and erasing - or partially erasing - the layers," says Kim. Her paintings are built up with paint that is rubbed in, scraped off, and painted over, mimicking nature's lifecycles and processes. The result is a depth of space and the unique quality of color that will not be found in a tube.
Kim has spent her life coming to Franconia, first with her grandparents and eventually with her husband and kids, buying a home in Bethlehem. She splits her time between the North Country and her home in Boston.
Kim received an MFA from SMFA/Tufts, and has a studio in SOWA, Boston, where she belongs to the painters' guild. When she is not painting, she is writing her Substack newsletter, the "Women's Survival Guide," focused on that 'now-what' phase of life told with positivity and humor.
Painter Jane Elfner
Jane Elfner started painting as a child.
"I was severely dyslexic and, like most dyslexics, I was very visual. Fortunately, my mother realized this, and saw to it that, along with reading lessons, I was provided with first class art instruction. I had some marvelous, dedicated teachers, some of whom were dyslexic themselves."
Jane worked in space planning and interior design for many years, even opening a workroom for the design and construction of window treatments, slipcovers, pillows, et cetera, but her love of paintings always brought her back to her center.
In time, Jane found it was time to encourage artistic expression in her own daughter, Kimberly Druker, later Stockwell.
"Kim and I have enjoyed so many wonderful times together, painting and discussing our creations. I was thrilled when she decided to go to the Museum School. She is so committed. She is in her studio most days and has really evolved. She has become my inspiration."

Proud to be Yankee's New England Today Travel Editor's Choice for Best NH Romantic Getaway!