'At Nature's Pace: Two Artists Journeys' Features Artists Kathie Lovett & Kelly Slater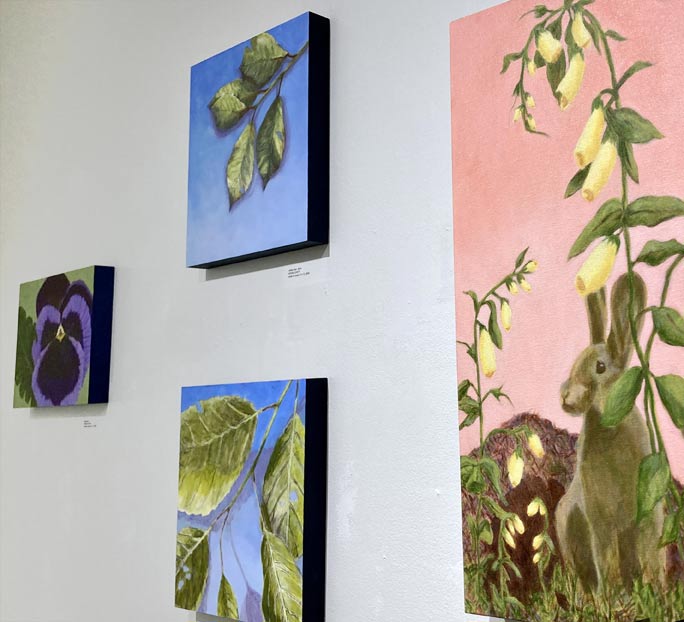 Artworks by Kathie Lovett
Situated in the beautiful White Mountains, in the midst of 200 acres of exuberant gardens and woodland paths designed by the renowned Olmstead brothers, the Adair Country Inn & Restaurant is an ideal setting to showcase the paintings of two artists whose recent work reflects their keen observation of the natural world. And this exhibit takes place during our colorful fall foliage season, giving guests another reason to visit the inn and see the artists' work.
"At Nature's Pace: Two Artists Journeys" features paintings by Kathie Lovett and Kelly Slater. The exhibit, running from Friday, September 11 through Columbus Day, Monday, October 12.
Kathie's and Kelly's vibrant, earth-inspired artwork was shaped in response to observing nature's slower pace. Following nature's rhythms allowed the artists to observe, appreciate and depict nature more fully in the pieces they created.
For this show, Adair joined with WREN (Women's Rural Entrepreneurial Network) at 2013 Main Street in Bethlehem, one of our partners in the new Arts at Adair series that will include all types of art throughout the months ahead, including painting, music, photography and more.
At the close of "At Nature's Place" at WREN, the artists' paintings moved to Adair and will be on display in the Inn's inviting living room and other public spaces.
About the artists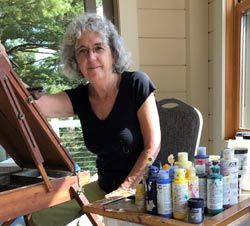 Franconia, NH artist Kathie Lovett began exploring studio arts 15 years ago following ownership of an independent bookstore. Working in acrylic and oil layers, Kathie's paintings reveal the energy of the forest, water and wildlife. Nature, says Kathie, "cracks and sparkles, hides and shows, speeds and slows, and charges direction," much as she does. At the core of her current exploration is an "observation of the magic that lies outside."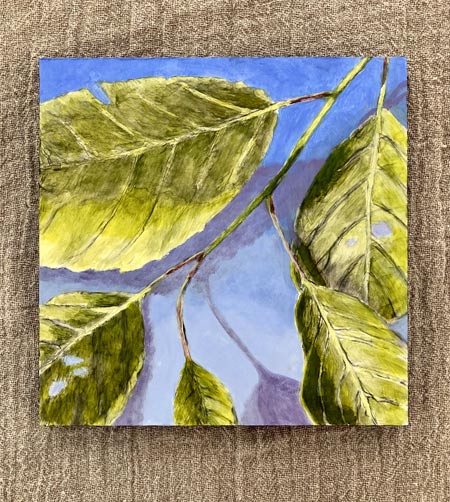 'Justice North' by Kathie Lovett
"What is image without story?" Kathie asks. "My work builds a relationship between conceptual content and the paint that lies on the surface. At Nature's Pace is a succession of observations and musings in picture form." Adair, she notes, is a match for this show as it is surrounded by the constructed pastoral landscape created by artists of another sort, the Olmstead brothers, landscape artists who were also intrigued by the forms and rhythms of the magical world outside.
Kathie is a director of Arts4NH, and is interested in how arts promote healthy communities. She was instrumental in the siting for this year's Franconia ArtWalk, where 20 sculptures are displayed in a beautiful outdoor setting. As a master gardener she received a grant to assist with the local Adaptive Sports program "Garden Buddies." She is a longtime member of WREN.


Artworks by Kelly Slater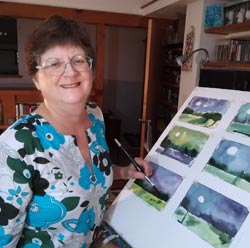 During the past few years, Saugus, MA artist Kelly Slater has focused her attention on "becoming intimately acquainted with a few locales - especially with certain trees within these special places... seeking to reconnect with both the rhythm and the spiritual sustenance of nature." Using predominantly watercolors and water-soluble ink, she "captures the essence of her favorite trees, animals and places."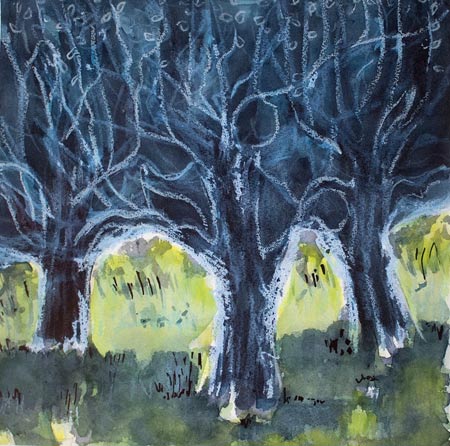 'Night Orchard' by Kelly Slater
"My current work is focused on just a few very special locales in the Northeast - and the Bethlehem area is one of them," says Kelly. "My husband and I have been vacationing in Bethlehem and surrounding towns for many years now, and I never fail to be inspired by the beauty of the rugged and dramatic landscape. Many thanks to the Adair for their strong support of arts in the North Country."
Kelly is a self-taught artist whose work has been exhibited in solo, group and juried shows in Massachusetts and New Hampshire and is in private collections in Boston, New York City, and the Berkshires, Brookline, Rockport and Cambridge, all in Massachusetts. She is the 2016 winner of the Berta Golahny Award, Cambridge Center for Adult Education. A founding member of the Cambridge-based artist collaborative "Banter Arts," Kelly is also a member of the Monotype Guild of New England, the Provincetown Art Association and WREN. She has been selected for several artist residencies, and frequently presents workshops on monotype printing.
Join the conversation
The artists will engage in a conversation about each other's work beginning at 4 p.m. on September 18 and 19. Kathie will be live at the Adair and Kelly will link in via ZOOM from her home studio in Saugus, MA.
Reservations are encouraged for the free meet and greet events. To reserve a spot live at the Adair, or to receive information to connect virtually on ZOOM, please call Adair at (603) 444-2600.
Following current COVID-19 recommendations, social distancing measures will be in place, and attendees who visit Adair must wear masks.

Proud to be Yankee's New England Today Travel Editor's Choice for Best NH Romantic Getaway!