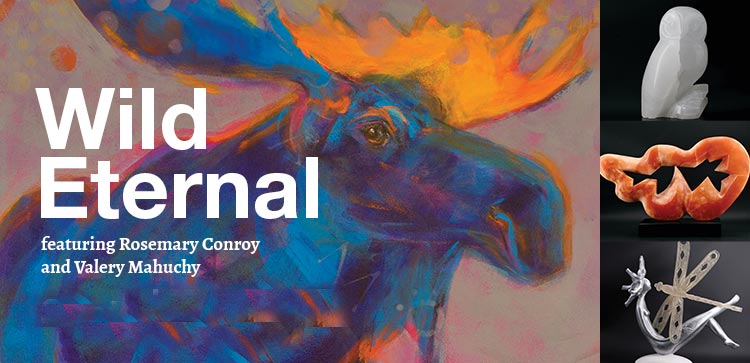 Wild Eternal Celebrates Artists' Reverence for All Beings
Rosemary Conroy's vibrant large-scale animal paintings honor the beings who share our world and acknowledge our common bond, while Belarus-born Valery Mahuchy uses the language of sculpture to explore the eternity of the universe through the lens of feminine, animal, and abstract forms.
Both artists featured in Wild Eternal use their work to communicate their reverence for all those who share our world, whether animal, human, or other.
The Wild Eternal exhibit is currently on display at the Gallery at WREN on Bethlehem's Main Street through Sunday, October 30, with select pieces on display at Adair.
The public is cordially invited to drop by the Adair to view the artwork on display.
About the Artists
Painter Rosemary Conroy
"Part of my journey as an artist has been to connect deeply with my painting subjects," says Rosemary Conroy. "I want to understand these beings as much as possible and on many levels. Whether bears, owls or whales, I want to know their habitats, their micro and macro movements, and to have felt some of their essential energy.
Rosemary notes that the pieces in this show are her attempt to show what she has learned so far - the beauty, wonder and mystery inherent in these wild creatures. "I've tried to capture their essence in my paintings because I want you to recognize it in yourself. We all share that same essence, that same inner wildness. Ours is just a bit more covered up by what we call 'civilization.'"
Many cultures, ancient and modern, have tried to articulate what this innate wild essence is - is it the holy spirit, kundalini, or shakti, she asks. "To me, the words don't matter as much as the knowing of it, the understanding that we all contain this divine spark. I find it readily in trees and mountains and all kinds of wild animals. Knowing that we all share it refreshes and sustains me. When I look a wild animal in the eye, I get a sense that they recognize this common ground. And they are just waiting for us to recognize it too, I think."
Rosemary's paintings are her on-going attempt to honor and thank the beings who populate our world and to acknowledge our common bond. To highlight that 'wild eternal' spark we all share and are consecrated by.
Many of the titles in this show are inspired by a beautiful poem called 'Holding the Light' by Stuart Kestenbaum, the poet laureate of Maine. "I hope that I have gathered enough light inside these paintings to overflow a bit of joy into your life," she says. "Thank you, in turn, for being part of my blessings."
Holding the Light
By Stuart Kestenbaum

Gather up whatever is
glittering in the gutter,
whatever has tumbled
in the waves or fallen
in flames out of the sky,
for it's not only our
hearts that are broken,
but the heart
of the world as well.
Stitch it back together.
Make a place where
the day speaks to the night
and the earth speaks to the sky.
Whether we created God
or God created us
it all comes down to this:
In our imperfect world
we are meant to repair
and stitch together
what beauty there is, stitch it
with compassion and wire.
See how everything
we have made gathers
the light inside itself
and overflows? A blessing.
Rosemary's path in life has been winding. She came to art after two previous successful careers - the first being an explainer of computers to stockbrokers in New York City; the second being a promoter of land conservation to the people of New Hampshire.
The tragic events of 9/11 inspired Rosemary to fulfill her life-long dream of painting full-time. Largely self-taught, she nevertheless has enjoyed success as an artist, exhibiting her work on both the regional and national level. Rosemary is convinced that passion for your subject is just as important as any formal pedigree.
"People tell me that my work brings them joy," says Rosemary. "My mission is to celebrate the beauty, wonder, and mystery of all our wild beings - so knowing that my paintings connect so strongly with people is so affirming."
Rosemary donates 10% of her net sales to wildlife conservation groups each year. "One of my biggest aspirations is to make a positive difference for animals through my art."
Mesmerized by our fellow earthlings, she regularly visits far-flung places to find inspiration for her colorful paintings and has served on land trust boards that help protect local habitats. Rosemary shows in several galleries in the region and has recently moved her studio to the Main Street of Francestown, in the Monadnock Region of New Hampshire. Her work is owned by people from around the world and is part of several non-profit and corporate collections.
Sculptor Valery Mahuchy
"I work with different materials: bronze, stone, hydrocol, resin. Each has its own language of expression for the intended subject," says sculptor Valery Mahuchy. "The size and color of the stone - whether alabaster, marble or another - sets its composition and solution, sometimes resulting in an unexpected transformation of the form. Dialogue with each material is always intriguing, a constant search, and a new surprise or mystery always waits."
The work in this exhibit reflects on the theme of the eternity of the universe through the lens of feminine, animal and abstract forms. Born in Belarus, Valery uses the language of sculpture to explore the question of freedom and the essentials of human life. "Art for me is the language in which I can communicate with people from all over the world. I do not seek to copy a visual object. I try to express it with a symbolic concentration of thoughts through a sculptural form."
Valery is interested in the contrast of forms, lines, and features, and the expressive potential of marble, stone, and wood. During his process, a balance arises between abstract and realistic form; often in the end an abstract-surrealist vision wins. He attended The Belarusian State Academy of Arts in Minsk, receiving a Master of Fine Arts from the Sculpture Department in 1988. Through 2015 he worked as a professional artist in Belarus, creating over 25 public art pieces. His work has been featured in newspapers, magazines, books, and on television. Valery's work can be found in the collections of the Marc Chagall Museum in Vitebsk, Belarus, the museums of art, history, and music and culture in Vitebsk, on the Franconia Art Walk in Franconia, NH, as well as in private collections around the world.

Proud to be Yankee's New England Today Travel Editor's Choice for Best NH Romantic Getaway!