Bethlehem Boasts Two Donald Ross-designed Golf Courses!
Golfers can swing, drive and putt on Bethlehem's two Donald Ross-designed 18-hole golf courses. Both courses are situated to take advantage of the region's inspiring mountain beauty.
More than 20 additional courses are easily reached from The Adair, including New Hampshire's oldest 18-hole course, the Waumbek in Jefferson, and a third Donald Ross-designed 18-hole course, the Mount Washington Course in Bretton Woods.
The Bethlehem Country Club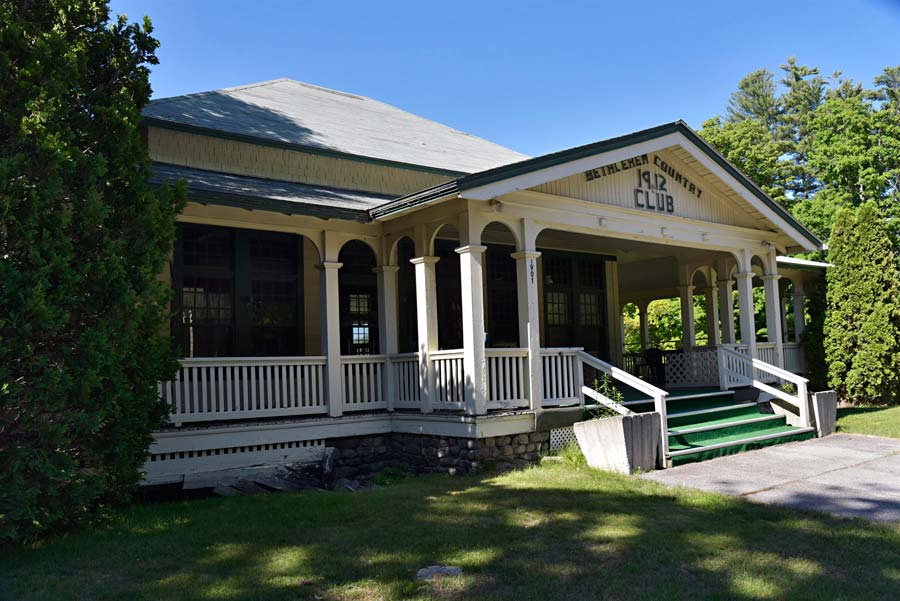 A 9-hole golf course opened in this location on Bethlehem's Main Street in 1898. Summer visitors who flocked to the mountains were intrigued by the new game of golf that was gaining popularity. At that time, a person could play golf for the entire summer for $5!
By 1909, Donald Ross was engaged to redesign and expand the course to 18 holes. It was the first course in New Hampshire to be designed by the famed Scottish architect.
The country club and public course have since been enjoyed by generations of golfers. The club includes a putting green and a public restaurant serving breakfast and lunch in a relaxed atmosphere, with indoor and outdoor dining. An ice cream window serves both soft and hard ice creams, including goat ice cream for people sensitive to cow dairy products.
Open 7 days a week; call (603) 869-5745 to reserve a tee time. More information is available at bethlehemgolf.com.
The Maplewood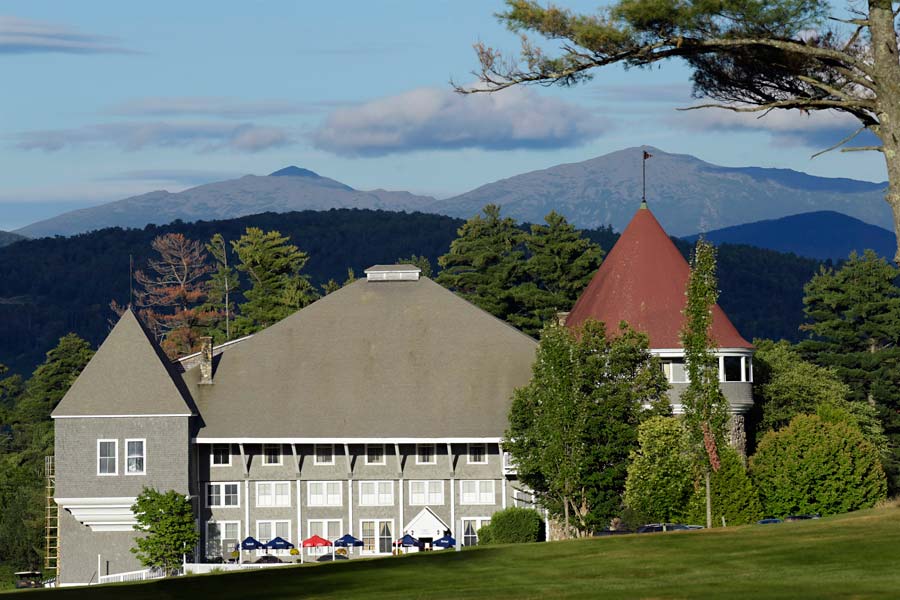 The distinctive red-roofed casino building with its rounded stone tower is all that remains of the once renowned Maplewood Hotel, a mecca for summer visitors beginning in the late 19th century and continuing until the hotel was destroyed in a fire in the 1960s. Today the property is undergoing a revitalization, thanks in part to its championship golf course that draws visitors from around New England and further afield.

Opened in 1914, The Maplewood's course is another Donald Ross treasure, featuring a rare par six, over 650 yards long. Golfers will also find challenges on demanding par threes and the beautiful water holes.
A semi-private club, The Maplewood includes a putting and a chipping green, pro shop, lounge and outdoor deck.
Lunch is available in the Grill Room, featuring starters, salads, grilled burgers and sandwiches, and beverages.
Tee reservations can be made directly through The Maplewood's website at maplewoodgolfresort.com. For additional information, call (877) 869-3335.
The Maplewood Caddy Camp
Caddy Camps were operated around New England by the North Bennet Street School (formerly the North Bennet Street Industrial School) in Boston's North End. The camps got city boys into the country, providing an opportunity to earn money along with important life skills.
Hundreds of boys attended The Maplewood Caddy camp, which serviced The Maplewood Hotel's golf course, from 1915 until 1963 when the hotel burned down.
Built in 1958, The Lady of the Fairways Shrine commemorates the generations of caddies who attended the camps throughout New England. The shrine features a marble Madonna statue set into a brick grotto. It has been placed on the New Hampshire State Registry of Historic Places.
A Caddy Camp Alumni Memorial plaque was installed at the site in 2015 reading, "To the traveler along this way... to the weary who would pause along the way to rest... to the family or group or party that would linger to rest and pray... to any and all... this roadside haven is dedicated with the hope that its beauty and serenity shall be as a warm handclasp of a friend to a friend."
This unique piece of golf history can be found on Route 302 near The Maplewood Golf Club.